Near Earth Human
The story of asteroid 2017 YE5 starts on December 21,2017 when French astronomer Claudine Rinner discovered the object using the Marocco Oukaimeden Sky Survey (MOSS).
On 21 June 2018 at 20:53 UTC, 2017 YE5 passed at its closest to earth: 15,52 lunar distances. On that date, observed by the monostatic Goldstone Solar System Radar in California, the images revealed that 2017 YE5 is a binary pair of asteroids, so composed of two bodies, 2005 UP156 and 2017 YE5. These two bodies of approximately 0.9km in diameter together are gravitating with each other along their orbit around the sun. To date, only four equal mass binary asteroids have been discovered among the near-Earth population which makes this phenomenon very very rare!
One of the theory explains that the asteroids could have started as two separate entities with similar orbit and locations. First looking at each other, getting closer, joining orbits until they would have become gravitationally bound, and begun to dance with one and another.
An asteroid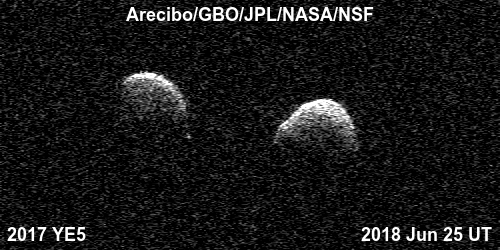 This love story is an introduction to our project, we want to draw life as a dance. We want to bring our attention to the motion of things, from the stars to the movement of human here on planet Earth, and question the movement ot the post Anthropocene world.

Hundreds of telescopes are every night observing these near-earth objects (NEOs), making sure none of them is getting to close to us. We are classifying all these extra-terrestrial bodies in other terms we are drawing the motion of our near space. This all movement in space can be seen as a beautiful yet dangerous dance around the sun, placing us as human, on our little globe, part of this. Great forces, gravities, black holes influence this movement, give the tempo, accelerate or slow down all bodies around.

We too behave in an organized chaos, sometimes with elegance sometimes with clash and crashes. We all have in mind these fascinating accelerated images of human movement, dictated by traffic lights, result of our complex organization. Movement is part of life, but can also become a threat. We put a large effort into studying NEOs not only for understanding our planet better or by fascination but also by fear, trying to foresee potential collision that might have disastrous repercussion.
Furthermore on a human scale we also see our fear of human movement, from migration to disease spread that we are experiencing right now.

A movement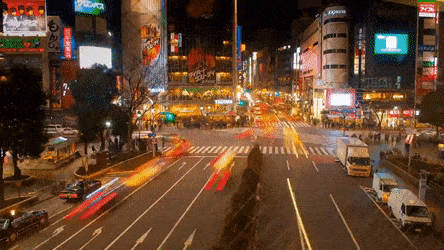 In 2020, an external factor came to slow the human cadence,brutally limiting the movement of humans, the street became empty, skies clear of planes and it gave us the time to look at the stars.
This moment also give a good opportunity to talk about movement and dance, we want to ask ourselves one question: what is the tempo of human in a post Anthropocene world.
By looking beyond our planet we can observe the unstoppable motion of matter, we are fundamentally always in motion, alone, with someone or/andas a collective. But we can question the velocity, is there a critical point?
The industrialization of the worlds for the last centuries has brought unprecedented progress for human life and contributed to an acceleration of movement and interaction. The collateral damages of this are very well know and pushes us to project more than ever the world of tomorrow and to break this pattern of constant
acceleration.Why
not looking at the stars and find inspiration, many asteroids don't have the perfect balance as 2005 UP156 and 2017 YE5 and crashes into each other leaving dust behind. What parameters it took for them to bound?
As a reflection point for us, what parameter it takes for post Anthropocene human to bound with Earth and enter in a dance, metaphorically?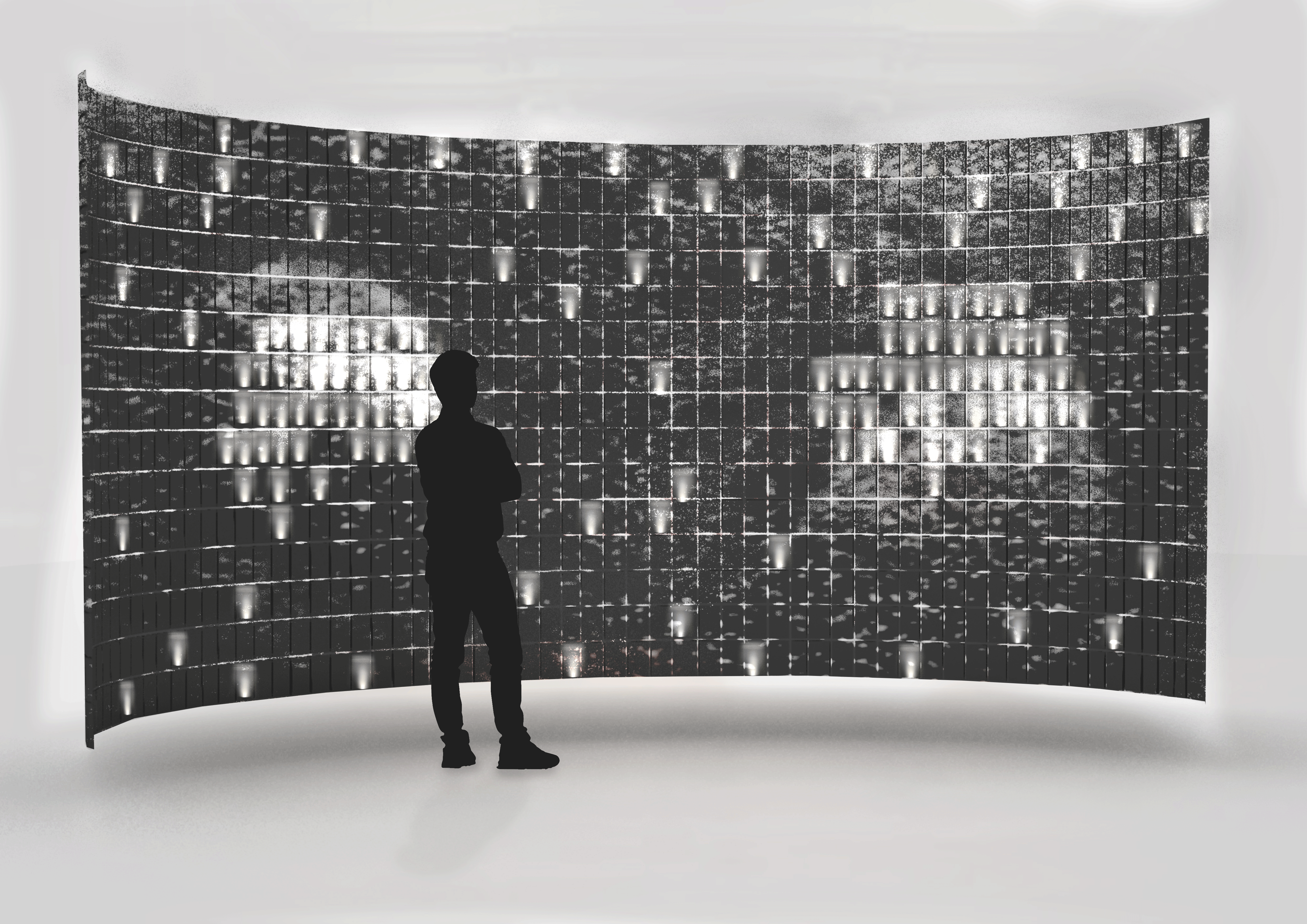 To reflect upon this topic we propose an installation for STRP festival that put human cadence in perspective and in connection with the cadence of the universe.

Offline
We envision a curved installation composed of a dozen piecesof paper. This installation will be a visualization of various temporality byresponding to different momentum programmed within the hours, weeks and years - Which put us into the asteroid perspective.

But first let's describe those pieces of papers, they will be thick textured paper, embossed, representing the asteroids texture. Dark, dry, rough but yet precise and delicate. Each individual piece will beassociated with a know NEOs (from the NASA database) and named upon it. They willdisplay LEDs enlightening the textured surface. All together on the wall, thelight will animate the story of our two asteroids, illustrating their dance.

We will propose the visitors to take one of the asteroids along and once away from the other it will follow two parameters visible through thelighting:
1. The light will be given a base pattern, a behavior base on their rotation period obeserved by the Nasa. Much like a heartbeat, a sigular identity
2. The light will change with the surrounding of others. Either accelerate and switching off for a moment ( a crash) OR starts synchronizing (a dance) with the other(s) if they recognize each other.

Each visitor will carry along a piece of the 'collective' and bring it with them as a constant remembrance of asteroid's movement. But it will only dance again if getting closer to another one.






The installation
Online
The online visitor will connect to a dedicated web page to visualize the wall of asteroids, lightening up on the same pattern as in the exhibition. The story will be explained within this animation home page.
You will have the possibility of clicking on each piece and by doing so it will create a blink instantaneously visible in the real installation as a connection with the offline visitor. The click will bring the online visitor on the page of the chosen asteroid with all the specific data.
For the online visitor is mainly about data visualization and proposing another approach of seeing the asteroids. We also want to offer the possibility of ordering one or a few pieces. Each piece will be made in double, one of the reason is to keep the installation complete during the whole duration of the event and the other will be sent to an online buyer after the event.


---
---
---
We are a collective of 3 designers Ivo Hulskamp & Raphael Coutin (bygg design) with the help of Tomas Gecevicius

Ivo Hulskamp is a product designer and artist. He combines conceptual thinking with advanced productions skills developing conceptual lighting installations, design objects and industrial products.
He successfully finished a degree in mechanical engineering, a bachelor in Product Design at the University of the Arts Utrecht (HKU) and a Master Public Space Design at the MAHKU in 2009. He now lives and works in Eindhoven, cofounder of Bygg Design V.O.F since 2020
He enrolled for a course in mechanical engineering in order to be "able to make anything" and after completion he found a job as a machine builder. He quickly found that the industrial environment was conceptually not satisfying and wanted to make more autonomous work.

Raphaël Coutin is a social designer. He works at the intersection of design and architecture. Trained in sculpture at ENSAAMA in Paris and later in social design at Design Academy Eindhoven in 2014. Raphael develops his practices by collaborating with diverse creative studios, institutions and schools, exploring the creative world of design. Cofounder of Bygg design V.O.F since 2020
Raphael seeks to create a dialogue between his design, its territory and concept, based on the premise that projects always take place in a specific social and geographical context. He sees design as a tool for building connections and for transforming ideas, ideals, vision or reflection into an understandable, tangible outcome. Maquettes, drawings, 3d models, animation and scale prototypes are just some of the approaches Raphael uses to develop projects in to a specific reality.

Tomas Gecevičius is an industrial designer with a passion for technology. With a focus on the Internet of Things field he can create connected interactive physical or digital solutions.
Tomas finished a bachelor of Engineering Design and Industrial Design in Kaunas University of Technology in Lithuania and is now completing his master studies of Industrial design in Eindhoven University of Technology.
His design approach is user-centered design from the interaction side. Tomas enjoys creating projects and seeing them to "come alive". To emphasize the aliveness in his ideas, he incorporates the light, physical movement, or motion graphics.




Wo we are